"Music is your favorite thing!"
-Boombox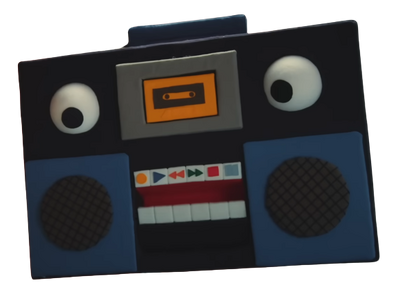 Boombox is a character that appears twice in Don't Hug Me I'm Scared 6, He first appears when Red Guy is in a dark room that has a machine. He appears again when Red Guy is experimenting with the machine. He was supposed to teach the puppets about music.
Appearance
He looks like a standard boombox. He is blue, with a red antenna, a yellow tape, speakers, a red mouth, and stop, record, play, fast forward, and rewind buttons on its top row of teeth.
Quotes
"Deeh?"
"Music is your favorite thing!"
Trivia
He has a deep voice.
He was possibly based on the boombox that was used to play the Creativity Song on stage in Red Guy's world.
He is most likely the puppet shown in Becky's "It's Friday" Instagram video.
His voice is different in the 2 appearances.
he can fly
Ad blocker interference detected!
Wikia is a free-to-use site that makes money from advertising. We have a modified experience for viewers using ad blockers

Wikia is not accessible if you've made further modifications. Remove the custom ad blocker rule(s) and the page will load as expected.