"Sports! Ball! Let's play sports! Cricket ball! Red card!"
-Football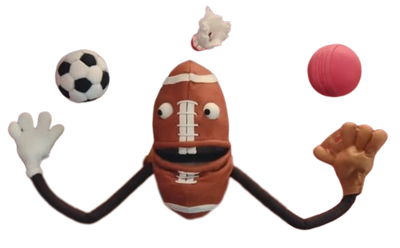 The Football or Rugby ball is a future teacher in Don't Hug Me I'm Scared 6. He was shown briefly while Red Guy was experimenting on a machine. He was supposed to teach the characters about sports.
Appearance
He is a brown american football who has black slender arms, and no legs. He wears a white glove on one hand, and a baseball glove on the other. He looks like a basic american football. Orbiting him are a soccer ball (or football), cricket ball and shuttlecock.
Trivia
He has a heavily autotuned voice.
He is the first teacher to levitate.
Ad blocker interference detected!
Wikia is a free-to-use site that makes money from advertising. We have a modified experience for viewers using ad blockers

Wikia is not accessible if you've made further modifications. Remove the custom ad blocker rule(s) and the page will load as expected.