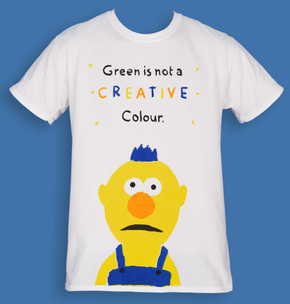 Green is Not a Creative Color
is a catchphrase by
Sketchbook
from
the first Don't Hug Me I'm Scared
. The phrase dismisses the color green. In the first Don't Hug Me I'm Scared, the puppets arranged leaves and sticks into their favorite colors (
Red Guy
 likes blue,
Duck Guy
likes red, and
Yellow Guy
 likes green). However, according to the sketchbook, green isn't a creative color. The phrase soon gained popularity within the fandom due to its random nature, and 
an official shirt
 featuring the quote was released as a result.
In the second Don't Hug Me I'm Scared, Tony the Talking Clock said brown when washing the character even though the rhymes of the words and lyrics were leading up to green (such as mean and clean).
Speculation
When the Sketchbook asked the puppets to pick their favorite color, green was not one of the options in the wheel, which is likely why green is not considered "creative." Green is also the only color picked that is not a primary color. This may imply that Sketchbook does not in fact encourage creativity, and is only trying to force its own idea of creativity onto the puppets. Or, maybe it is because green is the color of most leaves, so picking the color is not a creative idea.