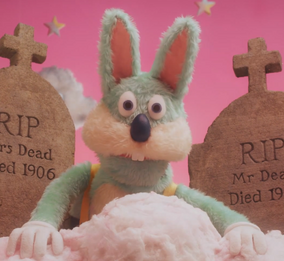 "Yes we do!" ~
Rabbit Boy
Rabbit Boy [1] is a turquoise character resembling a rabbit and an antagonist in Don't Hug Me I'm Scared 3. He is one of Shrignold's friends and, like Shrignold, he worships Malcolm, the King of Love.
Appearance
He is a turquoise rabbit that wears yellow/dark blue overalls with the moon, stars, and shapes), gloves, socks, and black shoes.
Gallery
Trivia
Many fans thought he was going to be the teacher.
Due to his voice, it can be assumed that he is a child.

Some fans also thought he was a girl due to his voice.
References
Ad blocker interference detected!
Wikia is a free-to-use site that makes money from advertising. We have a modified experience for viewers using ad blockers

Wikia is not accessible if you've made further modifications. Remove the custom ad blocker rule(s) and the page will load as expected.