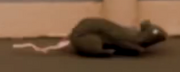 Rats are animals that are seen in
Don't Hug Me I'm Scared 2 - TIME
.
Don't Hug Me I'm Scared 2 - TIME
When the puppets learn about the past, there is a building called "Rat Meat & Sons" in the background. A rat can also be seen running behind the person covered in slime.
Kickstarter
Roy "uplowds" a video about rats titled "RAT EATS EGG" onto YouTube.
Ad blocker interference detected!
Wikia is a free-to-use site that makes money from advertising. We have a modified experience for viewers using ad blockers

Wikia is not accessible if you've made further modifications. Remove the custom ad blocker rule(s) and the page will load as expected.