"Bee bop a-do bop! I'll teach you how to buy a canoeee!"
-Saxophone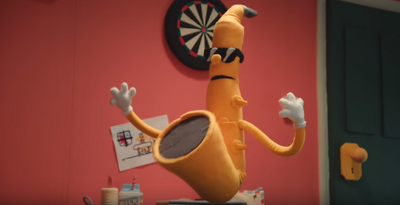 Saxophone is a future teacher who briefly appeared in Don't Hug Me I'm Scared 6 when Red Guy was experimenting with a machine. He was supposed to teach the puppets about "buying a canoe".
Alternatively - going by the fact that he looks like a saxophone - he may have been a music teacher, and been trying to teach Yellow Guy the blues, scat singing, or jazz.
Appearance
He appears a yellow saxophone, with slender yellow arms, buttons, a small yellow nose, and sunglasses. He also wears white gloves.
Trivia
His singing voice is very off-key.
It is unknown what was meant by the saxophone's promise to "teach you how to buy a canoe". Taken literally, this quote is nonsensical, and is most likely written this way to fit with the theme of poor teaching present in Don't Hug Me I'm Scared 6.
He can levitate.
Ad blocker interference detected!
Wikia is a free-to-use site that makes money from advertising. We have a modified experience for viewers using ad blockers

Wikia is not accessible if you've made further modifications. Remove the custom ad blocker rule(s) and the page will load as expected.